Dubai assassination: UAE demands justice but with what leverage?
In the Dubai assassination, the United Arab Emirates (UAE) has summoned European ambassadors in an effort to pressure Europe to take action against Israel over its alleged killing of a Hamas commander last month.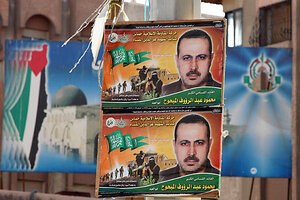 Khaled al-Hariri/Reuters
Dubai, United Arab Emirates
Diplomatic tensions are heating up over the forged European passports used by a hit squad that came to Dubai to murder of Hamas official Mahmoud al-Mabhouh.
But there's not a lot that the United Arab Emirates (UAE) can do beyond complaining to European ambassadors. The focus now is mostly on European countries calling in Israeli diplomats, and the European Union, which today issued a public condemnation of the use of forged passports.
The UAE has very liberal rules for Europeans coming here: they can currently enter the country without even a visa. But many experts doubt that much will be done to tighten those rules. Some say the Arab emiratet may simply urge Europe to improve its passport security or provide technical assistance to better detect forgeries.
The growing international political drama over the Dubai assassination could ultimately fizzle, say experts here, and leave many of the same rules and relationships in place, particularly in the case of the UAE, which has limited leverage.
"The only thing" the UAE can do to Europe is say, "the privileges I'm giving to your citizens could be reviewed," says Mustafa Al Ain, head of security and defense studies at the Gulf Research Center in Dubai.
---