Israelis ponder Mossad ethics, role in Dubai Hamas assassination
Citizens of Israel are of two minds over allegations that Mossad, which have not been confirmed, was behind the assassination of senior Hamas figure Mahmoud al-Mabhouh in Dubai. On the one hand, they support pursuing Israel's enemies abroad. On the other, they worry about possible identity theft.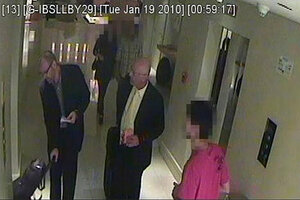 Dubai Police/Handout/REUTERS
Israelis are following the still-unfolding news surrounding the assassination of a senior Hamas operative in Dubai with a growing mix of awe and astonishment.
International speculation has focused on the Mossad, Israel's secret intelligence service which has carried out a number of assassinations abroad in the past, though the Israeli government has refused to confirm or deny these rumors.
On the one hand, many Israelis maintain a kind of pride in the Mossad and its reputation for stealthily pursuing enemies of the Jewish state in far-flung places. On the other, the fact that at least six of the 11 alleged assassins were traveling under identities apparently stolen from Israeli citizens – all of those six were holders of UK passports who immigrated here – has many questioning the ethics of the organization.
"There are plenty of people who would have been willing to cooperate with that kind of a mission. So if they're using these people's identities unbeknownst to them, then it's very problematic," says Jean-Marc Liling, a Swiss-French human rights lawyer who now lives in Israel. "Using people's identities without their consent is really intolerable."
---