Israel's envoy asked about fake British passports used by Dubai hit squad
Britain 'invited' Israel's ambassador to discuss the apparent use of forged British passports by a hit squad that murdered Mahmoud al-Mabhouh, a Hamas official, in Dubai. The assassination scandal recalls tensions from the 1980s, when Margaret Thatcher was furious that Israel's Mossad had used forged British passports.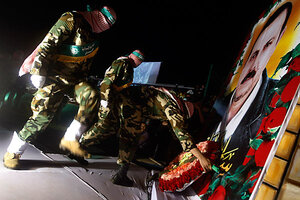 Khalil Hamra/AP
Israel diplomats were called in Thursday by the governments of Britain and Ireland to explain how passport details of citizens from both countries were used by a group of operatives suspected of killing a senior Hamas militant in Dubai.
The current delicate state of Anglo-Israeli relations, characterized in the British media this week as "being in the freezer," was illustrated by the insistence of Britain's Foreign Office that the Israeli ambassador in London was 'invited' rather than 'summoned' for discussions.
But while there has been increasing unease in Israel over the appropriation of identities for the Dubai killing – widely blamed on Mossad, the Israeli intelligence service – the British government itself is facing some potentially tricky questions concerning how much it knew about the use of the identities of at least six Britons living in Israel by members of the hit squad who traveled on forged passports.
William Hague, the British Foreign Minister's Shadow in the Conservative party, told the BBC Thursday that he had requested "fuller" answers about when the Foreign Office became aware that "cloned" British passports were used by suspects in the murder of alleged Hamas weapons broker Mahmoud Mahbouh on Jan. 19.
---