Dubai releases video on assassination team that hit Hamas
Dubai police on Monday named 11 European passport holders suspected of killing Hamas commander Mahmoud Mabhouh last month. It's only the latest in a number of high-profile international assassinations in Dubai in the past couple of years.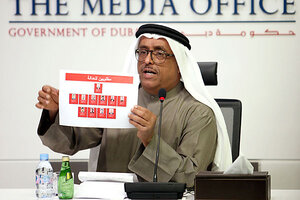 Dubai Ruler's Media Office/AP
Dubai, United Arab Emirates
Dubai police announced a global dragnet Tuesday for 11 European passport holders suspected of converging here last month, killing Hamas commander Mahmoud Mabhouh, and skipping the country within 19 hours.
While the high-profile assassination may have been dramatic, it was not the first in this busy hub of foreign visitors. The country has released CCTV footage of the alleged assassins' movements before Mr. Mabhouh's murder.
The United Arab Emirates city has made headlines three times in less than two years for shocking high-profile murders. To avoid such scandals, Dubai may have to recalibrate its characteristic openness, both to controversial figures like Mr. Mabhouh and to Western passport holders like the 10 men and one woman who allegedly killed him.
Ireland and Britain said Tuesday that the nine passports that identified team members as coming from their countries were fake. Melvyn Adam Mildner, a British man who lives in Israel and whose name was on one of the passports, told Reuters that he has never been to Dubai and was not involved in any way.
Dubai's "intelligence, surveillance, (and) reconnaissance are first-rate. But it's their visa regime that people can poke holes through if they want to," says Theodore Karasik, director of research and development at the Institute for Near Eastern and Gulf Military Analysis in Dubai. "There needs to be new metrics put in place to prevent this from happening."
---