Palestinian Authority steps up boycott of goods made in Israeli settlements in West Bank
The Palestinian Authority is intensifying its bid to boycott goods made in Israeli settlements in the West Bank, even as the EU Thursday said such products could not qualify as duty free imports. The effort takes a different approach to the struggle against Israeli occupation.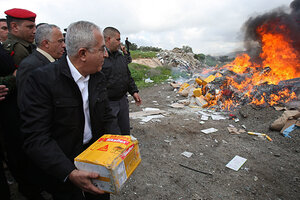 Nasser Ishtayeh/AP//File
While young Palestinians in Hebron are burning tires and throwing stones, Ziad Toame is taking a different approach to the struggle.
Mr. Toame has been tasked with implementing the Palestinian Authority's new boycott of all goods produced in Israeli settlements. The campaign started late last year, but Palestinian Authority (PA) Prime Minister Salam Fayyad launched the campaign into the limelight last month with the public burning of $1 million in products made in Israeli settlements and confiscation of them from the shelves of Palestinian shops. A week later, he announced a "National Dignity Fund" aimed at helping support the availability of Palestinian produce in local markets as well as abroad
"We've struggled in every way. But the main cause now is really a political issue, and we've decided that one way to fight is to fight against all settlement products," says Mr. Toame, director-general of the Ministry of National Economy's Department of Industry, Trade and Consumer Services. Toame's job includes overseeing an 80-member monitoring team that roams West Bank cities and villages, looking for goods to confiscate – and violators of the ban to report.
Palestinian industry has been heavily curtailed under Israeli occupation. So perhaps it's no surprise that loads of products made in some of the approximately 120 settlements in the West Bank – from produce and dairy to diapers, soap and paint – make their way to Palestinian customers. Competing Palestinian products are available for some products like produce, but distribution is more limited for Palestinian companies. Other products – cloth, door locks – can be harder to trace, and are made in Israeli industrial zones based in the West Bank.
---