Washington and Tehran rhetoric heats up over Iran nuclear program
The rhetoric between US and Iranian leaders has taken a sharp negative turn over the Iran nuclear program. Secretary of State Hillary Clinton called Iran's government a "menace" while Supreme Leader Khamenei said the US is not to be trusted.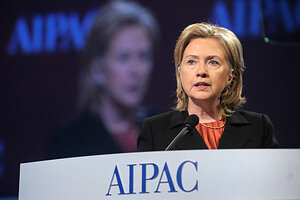 Cliff Owen/AP
The United States and Iran are throwing more rhetorical brickbats, blaming each other at the start of the Persian New Year for failure to embrace engagement initiatives, and reviving language drawn from decades of mutual demonization.
Washington is angry about Iran's rebuff of a nuclear deal offered last fall, its anti-Israel rhetoric, and constant Iranian accusations that the West was behind weeks of bloody unrest last summer.
Tehran is incensed by criticism of that lethal crackdown on opposition supporters since the country's contested election last June, and says the United States persists in working to undermine the regime.
"Elements in Iran's government have become a menace, both to their own people and in the region," US Secretary of State Hillary Clinton said on Monday.
Iran's leaders must know there are "real consequences" for not resolving questions about its nuclear program, and that it was "unacceptable" for Iran to have nuclear weapon, Mrs. Clinton said in a speech to AIPAC, an influential pro-Israel lobby group. "Our aim is not incremental sanctions, but sanctions that will bite."
---
Follow Stories Like This
Get the Monitor stories you care about delivered to your inbox.