Iraq election increases women in parliament – regardless of vote count
Iraq election results are due this week, but parliamentary seats held by women will automatically increase because of a new quota that says men can hold no more than three-quarters of all seats.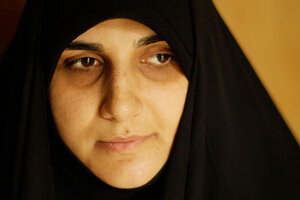 Maya Alleruzzo/AP
Maysoun al Damlouji has just one word for the male politicians who are sure to be upset when they find out their newly won parliamentary seats will be handed to female candidates under a quota to increase the role of women in the Iraqi government.
"Tough," said Damlouji, who ran for office with the leading secular bloc.
The final results from Iraq's March 7 parliamentary elections are due this week, after which the coalitions with the most seats will slug out who'll name a prime minister and form the next government.
In an electoral process full of complicated equations, the allocation of seats for women is one of the most arcane. Few of the female candidates can explain the math, but they bristle at being put down as just quota appointees or "political decor," as Nada al Abidi, a candidate from the rural southern Wasit province, put it.
"As long as there is a quota, people perceive women as gap-fillers and not deserving members of parliament," said Damlouji, who's still unsure if she'll get a seat. "The perception of a man is as an individual, but for women it's as a bloc. So if one woman failed, it's as if the entire womanhood has failed."
In close races, some male candidates who thought they'd narrowly won a seat will learn that they were bumped to accommodate women who didn't get nearly as many votes. By law, women will make up a quarter of the next parliament – 82 seats in the 325-member legislature – but the algorithm for assigning seats is so complex that one diplomat likened it to orbit mechanics.
---