Iraq election: Winning Sunni candidates targeted by Maliki forces
Four Sunni candidates on Iyad Allawi's winning Iraq election ticket are targets of investigation by forces loyal to Prime Minister Nouri al-Maliki, who is jostling for leverage as the two seek partners for a coalition government.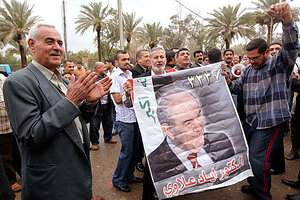 Mohammed Ameen/Reuters
At least four Sunni Muslim candidates who appear to have won parliamentary seats on the winning ticket of secular leader Iyad Allawi have become targets of investigation by security forces reporting to the narrowly defeated Iraqi Prime Minister Nouri al-Maliki, according to interviews with relatives, Iraqi security forces, and the US military.
All four candidates ran in the Diyala Province of Iraq, a restive mainly Sunni area north of Baghdad. One candidate who won more than 28,000 votes is being held incommunicado in a Baghdad jail, two other winners are on the run and the whereabouts of the fourth, a woman, are unknown.
Mr. Maliki alluded to the cases in his televised refusal Friday to accept a loss in the March 7 parliamentary elections, saying of unnamed rival candidates: "What would happen if some of them are in prison now on terror accusations and they participated in the elections and might win?"
Maliki's critics say the Shiite prime minister is using state security forces and the courts to remove political rivals – especially prominent Sunnis – in a last-ditch effort to disqualify candidates from Mr. Allawi's Iraqiya coalition, which holds only a two-seat lead ahead of Maliki's State of Law bloc.
---
Follow Stories Like This
Get the Monitor stories you care about delivered to your inbox.