Suicide bombings target Baghdad embassies, killing more than 30
Three suicide bombings in Baghdad targeted the Iranian, Egyptian, Syrian, and German embassies in quick succession before noon on Sunday.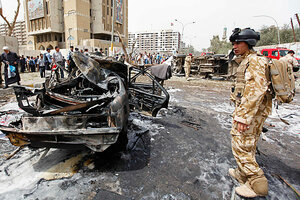 Hadi Mizban/AP
A wave of suicide bombings struck foreign diplomatic missions in Baghdad on Sunday, killing at least 30 people and wounding 224 others, Iraqi authorities said.
Three explosions targeted the Iranian, Egyptian, Syrian, and German embassies in quick succession before noon; some of the embassies were clustered in the same area. Iraqi security forces said that a fourth bomb was defused in downtown Baghdad. Iraqi authorities blocked all bridges over the Tigris River linking east and west Baghdad, while emergency works began pulling corpses and survivors from the rubble.
The blasts surely will color the intense political negotiations that are under way after the March 7 parliamentary election, raising questions about which candidates have the security credentials and the ability to cut across sectarian lines to lead a still-unstable Iraq after US troops withdraw by the end of next year. The embassy bombings come barely two days after gunmen dressed in Iraqi army uniforms stormed a Sunni Muslim village south of Baghdad and killed 25 men and women in an execution-style attack that was reminiscent of Iraq's worst days of sectarian violence.
Earlier Sunday, four other explosions — all of them involving the magnetic, or so-called "sticky," bombs — hit civilian and government targets in different neighborhoods of Baghdad, Iraqi authorities said. No one was killed in those attacks; two civilian drivers were wounded.
Also, in the Ninewah province north of Baghdad, two people were killed and 36 were wounded, including six policemen, in still another car bombing.
---
Follow Stories Like This
Get the Monitor stories you care about delivered to your inbox.