In Dubai, public kissing can land you in jail
In Dubai, British couple Charlotte Adams and Ayman Najafi were given a month in jail for public kissing. What do foreigners living in Dubai think of the case?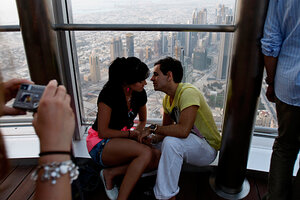 Kamran Jebreili/AP
Dubai, United Arab Emirates
The news made for titillating global headlines:
"Smooching Brits banished from Dubai."
"Blonde whose kiss could lead to jail."
But foreigners here in Dubai express little shock or outrage that twenty-something Brits Charlotte Adams and Ayman Najafi were given a month in prison for kissing in public late last year. The appealed sentence was upheld by a judge here on Sunday.
Most foreigners express sympathy with the Dubai government's point of view – and amusement at the whole affair.
"You have to respect the law of the land," says Reza, an Iranian-American who moved here in 2007. Although, he adds, "my girlfriend is coming to visit, so I better watch out."
RELATED: What are the rules for public behavior in Dubai?
Jana Barnard, a South African who's lived here for six years, says that "when you come here you should check on what the rules are.... The international media blows it out of proportion while the local media try to play it down."
---
Follow Stories Like This
Get the Monitor stories you care about delivered to your inbox.