Dubai assassination puts tough-talking cop Dahi Khalfan Tamim in spotlight
The expanding investigation into the Dubai assassination of a Hamas official – with Britain alleging this week that Israel forged passports used by the alleged killers – has drawn attention to the methods and style of Dahi Khalfan Tamim, Dubai's longest-serving police chief.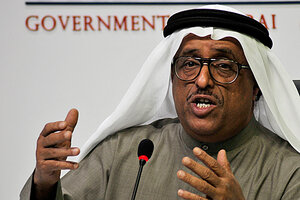 Jumana ElHeloueh/REUTERS
Dubai, United Arab Emirates
As the investigation into the Dubai assassination of a Hamas official expands abroad and pushes Israel further on the back foot, the man who set it in motion, Dubai's outspoken police chief, has gone surprisingly quiet.
He made no comment Tuesday after Britain offered the first outside confirmation of his claim that Israel was involved in the Jan. 19 killing of Mahmoud al-Mabhouh. Foreign Secretary David Miliband accused Israel of forging British passports used by the hit-squad suspects and expelled an Israeli diplomat in response.
The silence marks a change for Lt. Gen. Dahi Khalfan Tamim, the stern police chief with thick-rimmed glasses who seized the spotlight as it swung toward him over the assassination. He stretched 15 minutes of fame into weeks of international headlines, holding press audiences with impressive evidence and insulting zingers at Israel. "Even the disguise was primitive," he told reporters. "If they want a training course in disguise, we would be happy to oblige."
---
Follow Stories Like This
Get the Monitor stories you care about delivered to your inbox.