Sadr followers snub Allawi and Maliki. Who will lead Iraq?
With followers of anti-American cleric Moqtada al-Sadr saying they support neither Nouri al-Maliki nor Iyad Allawi, the top two vote-getters continue to jostle for allies to form a coalition that will lead Iraq.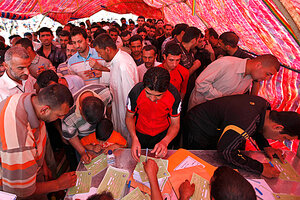 Hadi Mizban/AP
Istanbul, Turkey; and Baghdad
As Iraq's politicians jockey for power to form a new government, Iraqis on the streets hope that their vote in the March 7 elections will help end sectarianism and violence after seven years of insecurity.
"We have experience of the religious parties and it just raises tensions," says Bassim Mohamed, grabbing a bite at a Baghdad sandwich stall on his way home.
That's why he supports secular challenger Iyad Allawi, whose alliance narrowly beat Prime Minister Nouri al-Maliki's Shiite bloc. But minibus driver Mohamed Qarghil sees Mr. Maliki as the best man for the job.
"He has achieved security and stability," says Mr. Qarghli, who lived through the ethnic cleansing of Baghdad neighborhoods by Sunni and Shiite militias. "We noticed the change. We now can go out and move around different areas of the city."
The view of many Iraqis on both sides of the Maliki-Allawi divide may be summed up by Sundus Abbas, a Sunni student. "Religion should be between a man and God," she says. "The state is for everyone."
Both Maliki and Mr. Allawi tapped into that sentiment, campaigning as staunch Iraqi nationalists – despite long exiles from Iraq – and seeking to distance themselves from sectarian ties (see box).
---