Iraq claims key gains in dismantling Al Qaeda in Iraq
After the killing this week of the two top leaders of Al Qaeda in Iraq, officials in Baghdad said more important gains have recently been made in dismantling the group's networks.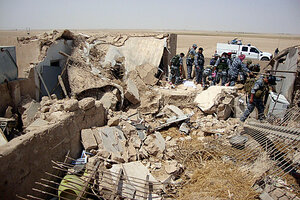 Sabah al-Bazee/Reuters
Iraqi officials Wednesday released new details of a raid that led to killing of the two top Al Qaeda in Iraq figures over the weekend, while officials said inroads in dismantling the network over the past several months could prove more damaging to the group than the leaders' deaths.
Maj. Gen. Qassim Atta said Iraqi special forces backed by US troops launched the raid on a farmhouse near Tikrit at dawn on Sunday after receiving information that it was being used as an Al Qaeda in Iraq (AQI) safehouse.
On state-run television, Atta displayed photos that showed a partially destroyed mud-brick farmhouse surrounded by high walls and empty fields that was the target of the operation that killed Abu Ayub al-Masri and Abu Omar al-Baghdadi.
Atta said security forces evacuated the farmhouse of women and children before throwing in a stun grenade. A US airstrike launched after gunmen in the house started firing appears to have detonated a suicide vest worn by Masri and possibly another of the other three men in the underground bunker.
It was unclear whether Masri and Baghdadi were killed in the airstrike or by the suicide vests.
"There was a rocket, there were bullets flying everywhere, I'd be lying if I told you that we knew," Iraqi military spokesman Mohammad al-Askari said in a telephone interview.
Mr. Askari said another significant AQI figure believed to be an aide to Baghdadi, known as Ayoub Jassim, was wounded in the attack and arrested.
---