Hezbollah spy cell in Egypt found guilty of terror plots
A court convicted 26 members of a Hezbollah spy cell guilty of plotting terror attacks in Egypt. Analysts say the Lebanese militant group crossed a political red line by using Egypt as a base to send weapons to Gaza.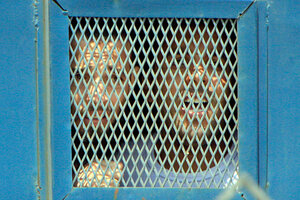 Amr Nabil/AP
An Egyptian court Wednesday convicted 26 men of spying for the Lebanese militant group Hezbollah and planning terrorist attacks in Egypt, handing down prison terms ranging from 25 years to six months.
The trial — commonly referred to as the "Hezbollah cell trial" — involved two Lebanese, five Palestinians, a Sudanese, and 18 Egyptians. It was held in the heavily guarded State Security Emergency court whose verdict can be reversed only by a presidential pardon.
The charges against the group included: plotting attacks against tourists; targeting vessels crossing the Suez Canal; spying; training agents; building explosive belts and devices; and smuggling weapons to the Islamist Hamas militants in the Gaza Strip.
Attorneys for the defendants said the charges were politically motivated.
The outcome of the trial could aggravate the already strained relations between Egypt, a Sunni nation and key U.S. ally in the region, and the Lebanese Shiite militia backed by Syria and Iran.
Three of the accused, including the group's Lebanese leader Mohammed Qiblan, received life sentences in absentia.
---