Architect eyes tony Palestinian city with eco-mindset and fast Internet
Bashar Masri is spearheading the first planned Palestinian city, pending Israeli approval. His young team – who order pizza and work through lunch – envision a 21st-century city conscious of its ecological impact and equipped with a fiber-optic network.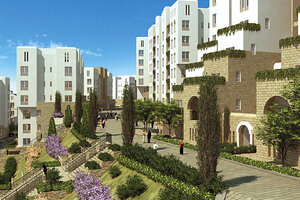 PHOTO: Courtesy of Zum
The state Palestinians dream of may not actually exist by next summer, as the Palestinian premier recently promised. But at the very least, a city upon a hill may have started to rise, with ground already being broken in the first planned Palestinian community – and the first new Palestinian city to be built in centuries.
Rawabi, which means "hills" in Arabic, is sited on the scenic green slopes north of Bir Zeit, a village north of Ramallah and home to prestigious Bir Zeit University. And its creators are hoping to tap that cachet to lure a high-end, well-educated populace, 70 percent of whom will be young college-educated families with 1.5 children.
"It is a change, culturally," says Bashar Masri, the driving force behind Rawabi and the managing director of the Bayti Real Estate and Investment Co., which is overseeing Rawabi's development. "Rawabi will be relatively cleaner and internally safer than what we see in most Palestinian cities, with cozy places to walk, pleasant cafes and restaurants, modern offices, and lots of green spaces in between."
IN PICTURES: The Israeli separation barrier: A West Bank wall
---