Iraq election recount battle over, now comes the hard part
At an unusual Baghdad gathering of key players, tensions eased over the Iraq election results. But the effort to form a coalition government and choose Iraqi's new prime minister and president still in the early stages.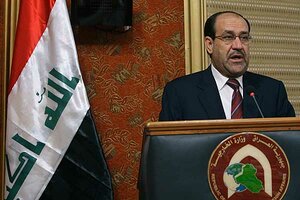 Khalid Mohammed/AP
The tense challenges to Iraq's March 7 election results appear over – breaking one political log jam. But the impasse over who will be the prime minister, president, and participate in the ruling government coalition will likely continue for months.
At an unusual gathering Wednesday of Iraq's key political players, international diplomats, and government officials, there was a palpable sense of relief that the country's post-election drama has been dialed down a notch after a vote recount.
"Hopefully it will be a matter of not so many more days before … the [election] results will be ratified by the supreme court," says Ad Melkert, the UN special envoy to Iraq. "That will open the possibility in about two weeks time for the new parliament to be convened."
Parliament convening will set in motion a series of steps that will eventually lead to a president and prime minister being decided – a process still expected to take several months.
"We respectfully wish and urge the leaders of Iraq to surprise us all in forming a new government in a short space of time," said Greek Ambassador Panayotis Macris, the dean of the foreign diplomatic corps, addressing Prime Minister Nouri al-Maliki and other dignitaries gathered for the ceremony re-opening the foreign ministry building, which was bombed last August.
---