Hamas faces financial crisis after three-year Israeli blockade
Laboring under an Israel blockade supported by Egypt, Hamas hasn't paid government employees full salaries for two months. It's also had to raise taxes, an unpopular move in the impoverished Gaza Strip.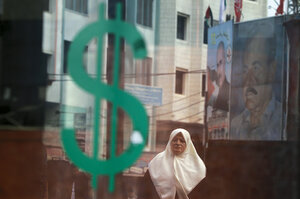 Tara Todras-Whitehill/AP
Jerusalem; and Gaza City, Gaza
Hamas has failed to pay in full the monthly salaries of its roughly 30,000 civilian and security employees in the past two months, signaling that the Islamist organization may be in the throes of its first financial crisis since it seized control of Gaza in 2007.
"The government is facing a crisis," said Hamas lawmaker Jamal Nassar last month. "The siege on the [Hamas-run] Palestinian government has been tightened recently and because of this it has been unable to bring in funds from abroad."
In response, Gaza's Hamas-run government has imposed new taxes in recent weeks. Cigarette packs cost a dollar more than they did last month, and the price of fuel is up 3 percent. Building materials are in short supply under an Israeli-Egyptian blockade, and scavengers now pay hefty fines even on the rubble they salvage.
IN PICTURES: The Israeli separation barrier: A West Bank wall
The duties have sown popular discontent across an already impoverished Gaza.
"I run my generator because the electricity is cut, and I cannot do business," says Ahmed, a shop owner who was taxed for putting his generator on the street outside his store.
"Why is the electricity cut?" he asks. "Because Hamas is in power, and the borders are closed. So now, Hamas, you will charge me for my steadfastness under your siege?"
Such sentiments are widely shared in Gaza, where unemployment stands at roughly 40 percent, and 4 in 5 residents are dependent on food aid.
Since coming to power in 2006 elections, Hamas had until now maintained a steady cash flow. It profited from the smuggling of black-market goods through tunnels under the Gazan-Egyptian border – tunnels also used to bring in suitcases of foreign currency. It has also transferred funds through money-changers outside Gaza, but controls have tightened.
---