Why some in Israel say the Gaza blockade has failed
Three years after Israel imposed the Gaza blockade to weaken Hamas, some Israeli analysts say it has failed. But Israel sees few other feasible options for containment.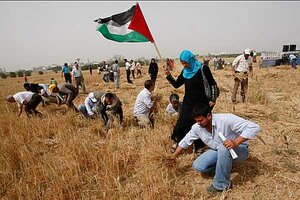 Hatem Moussa/AP
Both Hamas and Israel chalked up victories this week. In Damascus, the Islamic militants got a rare international embrace from Russia President Dmitry Medvedev. In Washington, the Jewish state got about $280 million for weapon system to intercept rockets from Gaza.
But three years after Israel imposed a blockade on Gaza to weaken the Islamist movement, the two sides are locked in a stalemate – looking not to final victory, but settling instead into a state of mutual deterrence. That has raised fresh debate in Israel among those who say the siege has failed to bring down the Islamist militants, and those who say it's an essential if unappealing tool to contain a group some fear could act as a proxy for Iran in a broader regional war.
"The strategies that Israel adopted to deal with Gaza since June 2007 when Hamas took over have failed,'' says Yossi Alpher, a former adviser to Prime Minister Ehud Barak and a coeditor of the Israeli-Palestinian opinion forum Bittlerlemons.org.
He acknowledges that the near-hermetic seal on commercial trade has brought economic upheaval, but says it hasn't weakened Hamas's hold on power or prompted it to be more open to compromise. Instead, he says, it has undercut a potential counterweight to Hamas: Gaza businesses and professionals.
---