The new Casablanca: Why Dubai draws Iran, intrigue, and tusk smugglers
Dubai is known to be among the world's most freewheeling business environment – and one that is attractive to Iranian businesses looking to circumvent Iran sanctions.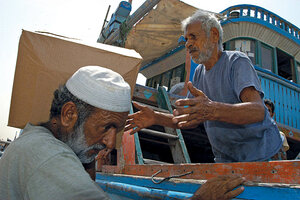 Teun Voeten/Newscom
Dubai, United Arab Emirates
It's been a freewheeling time even for Dubai.
In just two weeks in February, authorities seized Iraqi artifacts being smuggled in a chair pad, caught a traveler to Europe hiding heroin pills in his stomach, and found that $3.5 million of elephant tusks had slipped across their borders before being intercepted in Thailand.
Simultaneously, the murder of a Hamas gunrunner in his five-star hotel room here was flooding international headlines with sensational details of the hit squad with its fake passports and disguises. And now, Dubai's thriving trade with Iran is drawing fresh ire from the United States as it pushes for a fourth round of United Nations sanctions against Iran firms.
The emirate that put itself on the map with its "anything goes" attitude toward pleasure – building everything from islands to an indoor ski slope in this Bedouin land – has in recent months gained notoriety for its apparently similar disposition toward business.
Smuggled whiskey and Afghan drug money
---