Did Israel offer to sell South Africa nuclear weapons?
Israel has long kept silent on its nuclear weapons capability. But The Guardian newspaper reported today that it had written proof of an Israel nuclear program as early as 1975. Or does it?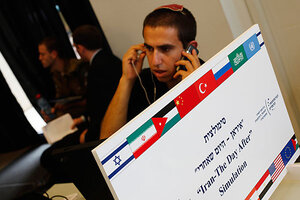 Nir Elias/Reuters
In an apparent blow to Israel's policy of "nuclear ambiguity," the Guardian newspaper in Britain today asserted that it had the first written proof of a robust Israeli nuclear weapons program that the country has never formally admitted to.
Relying on South African documents released to American academic Sasha Polakow-Suransky, whose book "The Unspoken Alliance: Israel's Secret Relationship with Apartheid South Africa" is coming out tomorrow, the Guardian said that Israel had offered nuclear weapons of three different sizes to apartheid South Africa in 1975.
Israeli President Shimon Peres, who in 1975 was defense minister and whose signature is apparently on an agreement to keep defense dealings with South Africa secret, rejected the claim on Monday. Israel was supplied non-nuclear armaments to South Africa at the time.
"There exists no basis in reality for the claims published this morning by The Guardian that in 1975 Israel negotiated with South Africa the exchange of nuclear weapons," Mr. Peres said in a statement. "Unfortunately, the Guardian elected to write its piece based on the selective interpretation of South African documents and not on concrete facts."
---
Follow Stories Like This
Get the Monitor stories you care about delivered to your inbox.