Why Rahm Emanuel is a lightning rod in Israel
In Israel, White House Chief of Staff Rahm Emanuel invited Prime Minister Netanyahu to meet with President Obama next week. While the move is seen as a bid to smooth relations, Emanuel is a controversial figure in Israel.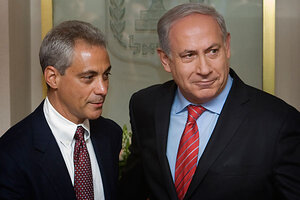 Sebastian Scheiner/AP
In a move seen in Israel as a bid to smooth ties after recent sharp differences over Israeli building in East Jerusalem, Rahm Emanuel paid a rare visit as White House chief of staff to Israel, delivering in person an invitation to Prime Minister Benjamin Netanyahu to meet with President Barack Obama next week.
Mr. Emanuel, who is combining business with a family vacation to celebrate the bar mitzvah of his son Zach, has been a lightning rod for blunt criticism because of his Jewish identity and ties to Israel. Israeli hard-liners who consider the Obama administration as hostile to the Jewish state have called him an "anti-Semite" and a "traitor."
Itamar Ben-Gvir, an parliamentary aide to a far-right Israeli legislator, said he and other pro-settler activists staked out the Western Wall plaza in the Old City of Jerusalem in hopes of demonstrating against Emanuel.
"It's a joke to come and have a good time in Israel and then to come out against Israel," says Mr. Ben Gvir, who distributed a poster in March calling President Obama an "agent" of the Palestine Liberation Organization.
---