Clinton call to Netanyahu: Israel settlement move a 'deeply negative signal'
Underscoring tensions over the Israel settlement issue, Secretary of State Hillary Clinton strongly criticized an ill-timed announcement of 1,600 new housing units in a call to Prime Minister Benjamin Netanyahu.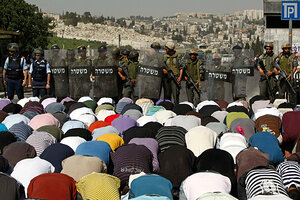 Darren Whiteside/REUTERS
A day after Vice President Joe Biden ended a fence-mending trip marred by the Israel settlement issue, tension hung over the embattled city of Jerusalem both in the streets and in government offices.
Israeli police in the capital went on high alert for violent demonstrations after Friday prayers in East Jerusalem – and the military enforced a total closure on Palestinians in the West Bank. Claimed by Palestinians as their future capital, it is increasingly emerging as the front line between competing Israeli and Palestinian visions for statehood.
Later Friday, Israeli Prime Minister Benjamin Netanyahu got a telephone call from a "frustrated'' Secretary of State Hillary Clinton, who reiterated America's displeasure over the surprise announcement of a 1,600 home development project in East Jerusalem, a move that upended Mr. Biden's visit.
In what was reportedly a 43-minute conversation, Clinton "[made] clear the United States considered the announcement a deeply negative signal about Israel's approach to the bilateral relationship and counter to the spirit of the vice president's trip," said State Department spokesperson P.J. Crowley.
---