Gaza aid flotilla: Why Israel expects to lose the PR war
As a Gaza humanitarian flotilla carrying some 800 demonstrators and 10,000 tons of goods approaches its destination, Israeli officials are applying lessons learned from the previous eight Palestinian aid flotillas. But officials don't expect the Israeli message to win the media campaign.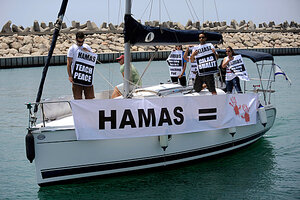 Amir Cohen/Reuters
When a few dozen pro-Palestinian activists first tested Israel's naval blockade of the Gaza Strip – with a shipment of hearing aids and balloons in 2008 – Israel ducked the confrontation.
Now, with an estimated 800 demonstrators and 10,000 tons of goods expected to reach Gaza's waters Saturday – the ninth and by far the largest such attempt – Israel has long since changed its approach.
Israeli commandos plant to intercept the Gaza aid flotilla, albeit with orders to avoid unnecessary conflict with civilian passengers, which include some Israeli Arab parliamentarians and foreign lawmakers. A VIP room will be prepared for those distinguished protesters in the southern Israeli port of Ashdod, where the navy plans to send the diverted ships.
IN PICTURES: Palestinian smugglers on the Egypt Gaza border
Israeli spokesmen, meanwhile, are being deployed in a defensive publicity war. They argue that Gazans have ample food and supplies despite the blockade, and that complaints should be directed at Hamas, the Palestinian faction that rules the territory and is considered by the US, Israel, and Europe to be a terrorist group.
---