Targeted by Israeli raid: Who is the IHH?
The Freedom Flotilla boat targeted by an Israeli raid Monday held many activists from the IHH. The Turkish aid group has been accused of having jihadi links in the mid-1990s.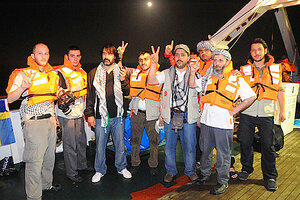 IHH/Reuters
A Turkish charity known IHH has found itself at the center of an international controversy over a fatal Israeli raid on a Turkish ship carrying humanitarian aid to the Gaza Strip.
Several of IHH's members were killed when Israeli commandos boarded the Turkish-flagged Mavi Marmara, a member of the self-described Gaza Freedom Flotilla, carrying the bulk of 10,000 tons of humanitarian aid the Strip. The IHH has been accused by Israel of funneling support to militant organizations across the Muslim world, a charge the group denies.
"Our president and our committee are currently arrested in Gaza so it's too early to talk about going back but of course we'll always continue to try breaking the embargo to get aid through," says Fatma Varol, a volunteer with the organization speaking from its headquarters in Istanbul. The group's official name is Insani Yardim Vakfi.
IN PICTURES: The Gaza flotilla and the aftermath of the Israeli naval raid
Greta Berlin, the co-founder of the Free Gaza Movement that has organized the previous eight attempts to deliver aid to Gaza, also vowed to press on.
"Our mission [to break Israel's blockade of Gaza] has not changed and this is not going to be the last flotilla," said Ms. Berlin.
---