Why Israelis are upset about Israeli raid on Gaza freedom flotilla
Israelis haven't expressed much sympathy for Gaza freedom flotilla activists attacked in an Israeli raid Monday. But they're upset that their government walked into what they say was a trap, and botched the mission.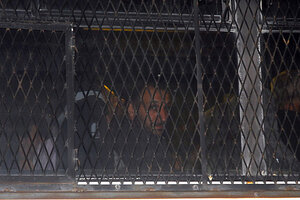 Herzl Yosef/Reuters
As Israel gets an international scolding for the deaths in a botched Israeli raid on the Gaza freedom flotilla that challenged Israel's three-year blockade on the coastal strip, the government of Prime Minister Benjamin Netanyahu has come under a storm of criticism from Israelis themselves.
Though there was little sympathy for the nine activists killed and dozens injured in the clash on the Marmara passenger ship, Israelis are frustrated with their leaders for walking into what they say was a transparent "trap'' of confrontation with pro-Palestinian activists – and botching the mission.
"It's the military failure combined with the international damage. Most people could live with that if it had been done successfully,'' says Tom Segev, a leading Israeli historian. "It's not that people are angry that people in Gaza are hungry. It was an operation that was ill-conceived and didn't go well enough. They hate when things go wrong.''
In the heat of the frustration, there were signs of a possible political crisis for Mr. Netanyahu. A front-page column in the centrist daily newspaper Maariv demanded the resignation of Defense Minister Ehud Barak. In addition, a parliament member from the dovish Meretz Party called on the government to appoint an independent inquiry commission.
---