Gaza flotilla raid pushes unknown Knesset member into spotlight
Hanin Zoabi, who was aboard the Mavi Marmara when it was seized Monday by Israeli commandos, has stepped up as a leading domestic critic of her government's Gaza flotilla raid. Meanwhile, senior statesman Ehud Barak faces calls for his resignation.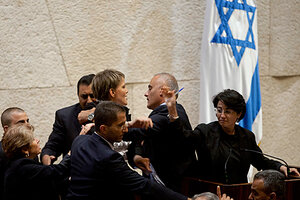 David Vaaknin/AP
Reverberations within Israel from Monday's deadly raid on the Gaza flotilla are thrusting an unknown Arab-Israeli parliamentarian into the spotlight while Defense Minister Ehud Barak faces intense criticism over the botched operation that left at least nine dead.
As Mr. Barak withstands a barrage of calls for his resignation, freshman parliament member Hanin Zoabi has emerged as a leading domestic critic of her government, calling their military operation "criminal."
"She is becoming a star even though she has a reputation for being quiet,'' says Saed Adawi, an editor at the Israeli Arab Kul el Arab online news site. "She displayed bravery.''
IN PICTURES: The Gaza flotilla and the aftermath of the Israeli naval raid
Ms. Zoabi was aboard the Mavi Marmara, one of six ships in the so-called Freedom Flotilla that attempted to break Israel's three-year blockade on the Gaza Strip and bring in 10,000 tons of humanitarian supplies. She was detained, along with more than 600 others, when Israeli naval forces rerouted all six ships to Ashdod port.
---