Iraq court ratifies election results (finally), now what?
With the ratification of Iraq March elections results should clear the way for the formation of a new government. The US plans to reduce it's troop presence in Iraq to 50,000 soldiers by August, but its not clear yet who will be Iraq's prime minister. .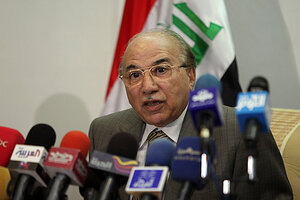 Karim Kadim/AP
Iraq's top court on Tuesday approved the results of the March parliamentary elections, a move that cements the narrow lead of a secular-led coalition but does little to end the impasse over forming a new government.
The Supreme Court's action starts the clock on a 15-day window for convening the new parliament. However, several Iraqi politicians said they expect legislators to buy more time by opening a new session and failing to adjourn it for weeks, a loophole that was used after the last parliamentary elections, in 2005.
The nearly three-month delay is frustrating for ordinary Iraqis, who risked their lives to vote, and for American officials, who need to coordinate the full withdrawal of U.S. forces with the next government. The Obama administration hopes to have just 50,000 service members remaining in Iraq by the end of August, but many political observers are skeptical that the incoming Iraqi government will be seated by then.
Now that the ratification has ended the months of recounts, accusations of fraud and other legal challenges to the results, the task ahead is high-stakes coalition building, because no single bloc won an outright majority.
---