Why Iran's Revolutionary Guard wants to escort new Gaza flotilla
Iran is worried that Turkey is stealing the limelight on an issue Tehran has championed since 1979: the Palestinian cause. So its Revolutionary Guard has offered to escort an Iranian Gaza flotilla.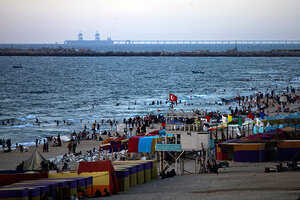 Lefteris Pitarakis/AP
Iranian President Mahmoud Ahmadinejad today decried the "brutal and barbaric ... Zionist regime," as if trying to catch up with Turkey's fierce criticism of Israel's raid on the "Freedom Flotilla" last week. In Istanbul for a regional security summit, he heralded the international outcry against Israel as a "reawakening of nations" in a fight of good versus evil.
"On one side, you can see the pure feelings of the love to the almighty God, love to humanity, love to peace and security and freedom – and the feeling to help each other, to have compassion towards each other," said Mr. Ahmadinejad. "On the other side, we could see evil forces, violence, hatred, war, captivity, and the devil's outcry from the throats of the uncultured Zionists. Lies. Deceptions. Deceitful tactics and impurity. And in fact, this side was raising the flag of Satan."
Analysts say that Iran's reaction – including Ahmadinejad's repeated reminders that the Islamic Republic has championed the Palestinian cause since the 1979 Islamic revolution – is designed to recapture from Turkey part of its self-declared role as the regional bastion of militant resistance that fights for the oppressed.
---