Is Obama starting to prod Egypt on human rights?
Many human rights and democracy activists in the Middle East are disillusioned with Obama's lack of action. But Egypt's acceptance today of 21 human rights recommendations after a visit by Vice President Biden may signal a shift.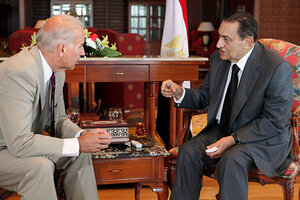 Amr Nabil/AP
Egypt presented a rosy picture of its human rights credentials today, promising to implement most of the recommendations made by the UN Human Rights Council as part of a quadrennial review process.
Egypt, which had accepted 119 of the council's 165 recommendations in February, agreed to another 21 after Vice President Joe Biden had publicly urged it to implement the recommendations on a visit here earlier this week. They included those calling for better treatment of religious minorities, changes in its penal code to bring it into line with the UN Convention Against Torture, and the establishment of a fully independent electoral commission.
Human rights organizations are not hopeful that Egypt will live up to the commitments it made to the council, and pointed out that the regime has already violated the promises it made in February. But Egypt's move comes after the US has begun to show a slight shift in policy by nudging Egypt on human rights and reform.
"Biden could have easily gone to Egypt and spoken only about Gaza and Iran. I think it's notable that he raised those issues in Egypt," says Michele Dunne, a senior associate at the Carnegie Endowment for International Peace. "It's not a really high level of engagement, but at least these issues are starting to reemerge in the US-Egypt relationship."
---
Follow Stories Like This
Get the Monitor stories you care about delivered to your inbox.