After escaping flotilla uproar, Israel faces new flap over Jerusalem
A Jerusalem municipal council approved plans to install a tourist park in the East Jerusalem neighborhood of Silwan, which calls for demolishing 22 Palestinian homes. The US warned that the plan threatens Israeli-Palestinian peace talks.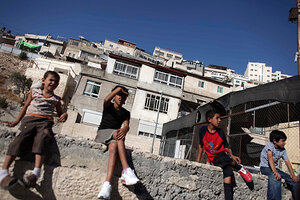 Tara Todras-Whitehill/AP
Diplomatic tensions have flared over Jerusalem for the first time in weeks following the preliminary approval for a controversial plan for a tourist park in the East Jerusalem neighborhood of Silwan. The plan calls for 22 Palestinian houses to be demolished.
The decision Monday by a Jerusalem municipal planning committee immediately drew condemnation by the Palestinian Authority and a warning from the United States.
Three months after the announcement of an East Jerusalem building project upended Vice President Joe Biden's visit to the region, the move highlights the potential threat to peace talks and regional stability posed by Israeli development in contested areas of the Holy City.
"It's like lighting a match in a roomful of gas,'' says Meir Javedanfar, a Middle East analyst based in Tel Aviv.
Once again, a lower-level government agency has taken a small step toward a project that will take years to complete, leaving Prime Minister Benjamin Netanyahu, the US, and the Palestinians to handle the fallout.
---