US-Israel ties: Why Obama wants more from Netanyahu
President Obama hosts Israeli Prime Minister Benjamin Netanyahu in the White House today for the first time since March, when he humiliated Mr. Netanyahu amid a US-Israel flap over settlements.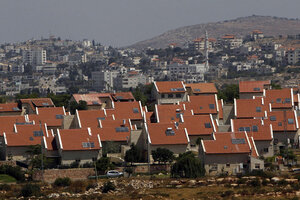 Ronen Zvulun/Reuters
As Israeli Prime Minister Benjamin Netanyahu meets with President Obama today, the diplomatic clock is ticking.
After US envoy George Mitchell returned home after another round of indirect talks last week, Americans are impatient for substantive progress before Israel's temporary freeze on West Bank settlements expires in September. Such progress will not only move Israelis and Palestinians closer to a peace deal, it will also help the US shore up international support for implementing the recently approved United Nations Security Council sanctions against Iran's nuclear program.
"There are a lot of factors that are coming together at the moment. And there is a question of how long it can carry on like this. The process is going no where,'' says one locally based Western diplomat who requested to remain anonymous. "The American patience is growing thin. There are factors banging on the door for Israel, like its diplomatic isolation. And time is running out on the two-state solution.''
---
Follow Stories Like This
Get the Monitor stories you care about delivered to your inbox.