Briefing: Strains in US 'special relationship' with Israel
The 'special relationship' the US and Israel have long enjoyed is being tested again today as US Secretary of State Hillary Clinton addresses AIPAC, the most powerful Israel lobby in Washington.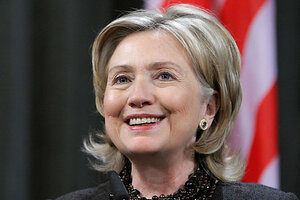 Alexander Zemlianichenko/AP
Tel Aviv, Israel; and Boston
Amid unusually high tensions between the US and its closest ally, Israel, US Secretary of State Hillary Clinton today addresses AIPAC – the strongest Israel lobby in Washington. At issue is just how far the US should push Israel to make difficult choices in the name of peace.
After Israel recently announced plans for 1,600 new homes to be built in East Jerusalem, Palestinians got cold feet on renewed peace talks. With Israeli Prime Minister Benjamin Netanyahu in Washington today, the Monitor offers a snapshot of a unique friendship.
What are the friendship's roots?
Long before the 1948 rebirth of Israel, Puritans had lobbied the Dutch government to "transport Izraell's sons and daughters ... to the Land promised their forefathers."
That call was supported by US presidents from John Adams to Abraham Lincoln – and Americans themselves, writes historian Michael Oren in "Power, Faith, and Fantasy: America in the Middle East."
---
Follow Stories Like This
Get the Monitor stories you care about delivered to your inbox.