US Israel settlements fight marks lowest point since 1970s: ambassador
In a bid to cool tensions with the US over Israeli settlements, which Israel's ambassador described as the lowest point in diplomatic relations since the 1970s, Prime Minister Benjamin Netanyahu apologized again Sunday for last week's announcement of 1,600 new homes in East Jerusalem. His political future may be in jeopardy.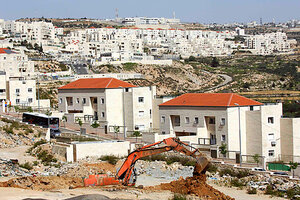 Amir Cohen/Reuters
Despite an attempt by Israeli Prime Minster Benjamin Netanyahu to downplay the angry messages from US officials over plans for new homes in East Jerusalem, Israel's envoy in Washington believes it's the worst crisis between the allies in more than a generation.
Ambassador Michael Oren told Israeli consuls in the US during a conference that a nearly week-old public fight that broke out during Vice President Joe Biden's visit marks a low point in diplomatic relations since the mid-1970s when the Ford administration reassessed ties with Israel over a disengagement agreement with Egypt and froze arms shipments. President Barack Obama has been pushing for a full Israel settlement freeze to get peace talks with the Palestinians restarted.
IN PICTURES: Israeli settlements
The leak of the ambassador's statement to Israeli newspapers Monday could hurt Netanyahu's standing in Israel, where public opinion is historically unforgiving toward leaders who don't manage US relations well, said experts.
---