Joe Biden, in Ramallah, stymied by new settlement construction
US Vice President Joe Biden visited Palestinian President Mahmoud Abbas in Ramallah Wednesday and warned that fresh Israeli settlement construction is undermining confidence in the peace process.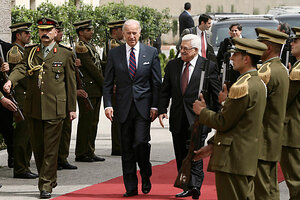 Tara Todras-Whitehill/AP
Vice President Joe Biden embarked on the Palestinian leg of his Middle East trip on Wednesday with tensions still high over Israel's surprise announcement of new settlement construction in East Jerusalem.
But as his convoy snaked its way through the seat of Palestinian government, signs emerged that the bruised effort at new peace talks – the first in more than a year – would survive the uproar.
During the vice president's meetings with Palestinian President Mahmoud Abbas and Prime Minister Salam Fayyad, they expressed frustration with Israel and warned that settlement activity will doom negotiations. But they stopped short of an about-face on the talks.
The settlement plans "undermine trust and deal a severe blow to the efforts that have been exerted over the past months to launch indirect negotiations," Abbas said after his meeting with Biden, echoing the annoyance of Palestinians and Arabs. But then he signaled that his commitment to the talks had not been broken. "I would like to address the Israelis. The time has come to make peace."
More Israeli construction
On Tuesday, word of a 1,600-home construction project in the part of Jerusalem claimed by Palestinians as their future capital seemed to confirm pessimism about the prospects for a compromise with the right-wing government of Israeli Prime Minister Benjamin Netanyahu.
---