Khalid Said case: Is Egypt cracking down on police brutality?
Two Egyptian policemen went to trial today in the case of Egyptian businessman Khalid Said, whom witnesses say was beaten to death.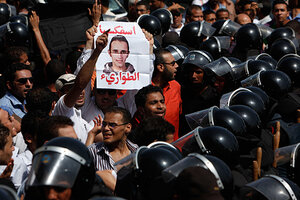 Nasser Nasser/AP
Two policemen stood trial in Alexandria today in the case of an Egyptian businessman whose death ignited protests across Egypt against the brutality and torture that pervades the police and security forces here.
Khalid Said died in Alexandria in June after, according to witnesses, the two policemen beat him to death on the street. The government said two autopsies show he died of asphyxiation after swallowing a packet of marijuana, but graphic pictures of his body circulated on social networking sites support the witness accounts.
In what activists say is a signal that the government is unlikely to challenge the culture of impunity that pervades Egypt's security forces, the two policemen – Awad Ismail Soliman and Mahmoud Salah Amin – are not charged with causing Mr. Said's death. They are instead accused of unlawful arrest and excessive use of force.
Lawyers for Said's family asked the judge in court Tuesday to change the charge to murder, and the judge adjourned the trial until Sept. 25. Hafez Abu Saeda, director of the Egyptian Organization for Human Rights and one of the family's attorneys, says the outcome will be pivotal.
---
Follow Stories Like This
Get the Monitor stories you care about delivered to your inbox.