Al Qaeda in Iraq targets Baghdad's developing police force
The Iraqi Army is gradually handing responsibility for Baghdad security to Iraq's developing police force – a transition Al Qaeda in Iraq is exploiting with increased attacks.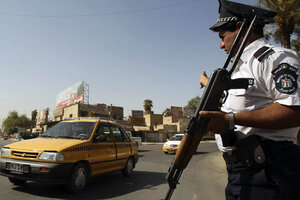 Saad Shalash/Reuters
As US combat forces leave the country, Al Qaeda in Iraq (AQI) appears to be creeping back into the Iraqi capital in a bold campaign of shootings, bombings, and intimidation focusing on undermining Baghdad's developing police force.
Almost daily attacks on police and traffic police in Baghdad and Anbar Province west of the capital in the past two weeks have killed almost 30 police.
US military officials say those attacks have increased as the Iraqi police have taken more responsibility from the Iraqi Army in – a move eventually intended to allow Iraqi soldiers to move out of the cities and defend Iraq's borders.
"It's certainly about intimidation of the population and the police and certainly about Al Qaeda trying to reassert themselves in areas where they've been limited in freedom of movement," said Maj. Gen. Steve Lanza, spokesman for US forces in Iraq.
Lanza said that the fact that security forces have remained at their posts during the attacks, unlike during the height of the insurgency when they commonly abandoned them, was evidence of a maturing Iraqi police force and Iraqi Army.
---