In Egypt, some see first salvo in Mubarak succession plan
In recent weeks, Egyptian President Hosni Mubarak's authoritarian government has allowed posters with the slogan 'Gamal Mubarak: dream of the poor' to be posted around Cairo.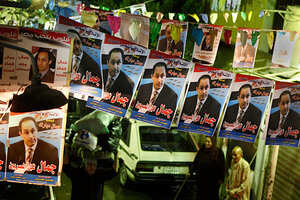 Amr Nabil/AP
The long-held suspicion among Egyptians that President Hosni Mubarak is grooming his son Gamal to replace him one day is crystallizing into a widespread belief. There are now signs that "one day" may be as close as next year.
As President Mubarak hosts the next round of peace talks in Sharm El Sheikh today, some say he's sending a message to both the Americans and the Israelis that Gamal is the safest choice to preserve Egypt's peace with Israel, which is deeply unpopular among the Egyptian public, and its role in shepherding the negotiations.
In recent weeks a group has been plastering posters in low-income Cairo neighborhoods with the slogan "Gamal Mubarak: dream of the poor." With a presidential election scheduled for next year and concerns about the health of the 82-year-old leader, the posters are taken by many as the first salvo in an election campaign for Gamal.
Gamal also accompanied his father to Washington for the launch of renewed Israeli-Palestinian peace talks earlier this month. That led to a flurry of speculation that the elder Mubarak was seeking President Barack Obama's blessing for hereditary succession in a nation that receives more than $1 billion in US aid each year.
---