Israeli-Palestinian talks in Egypt address key issues of conflict
Prime Minister Benjamin Netanyahu and President Mahmoud Abbas plan to meet again Wednesday in Jerusalem for Israeli-Palestinian talks that are threatened by a dispute over settlement building.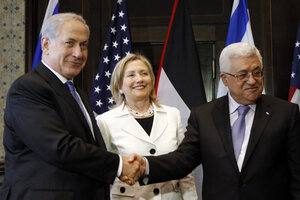 Alex Brandon/AP/Pool
Meeting in Egypt for their second peace summit in two weeks, Israeli and Palestinian leaders began discussing for the first time Tuesday some of the issues at the heart of a possible treaty, even as a dispute over settlement expansion clouds the future of the talks.
Both Israeli and US officials sounded upbeat about the atmosphere at the talks in the Red Sea resort of Sharm el-Sheikh.
US peace envoy George Mitchell, who accompanied Secretary of State Hillary Clinton to the summit, said the discussions of those core issues were "serious, detailed, and extensive."
A spokesman for Prime Minister Benjamin Netanyahu said the talks covered "substantive issues'' and were "good."
Palestinians didn't comment on the talks in the initial hours after the meeting – a possible sign of unease with the talks. Their silence also could be due to an American request to keep quiet about the summit's details.
Palestinian Authority President Mahmoud Abbas is threatening to abandon the talks if Israel does not extend a temporary freeze on West Bank settlement building.
The summit moves on Wednesday to Jerusalem where Mr. Abbas and Mr. Netanyahu are scheduled to meet again.
---