Why the Israeli 'consensus' on settlements is not so simple
Israelis often refer to a 'consensus' that several major settlement blocs should be incorporated into Israel as part of a two-state solution. But some Israelis can't even find them on a map.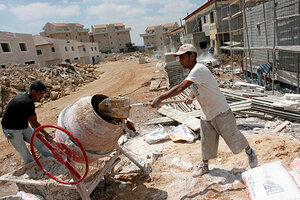 Nir Elias/Reuters
Responding to calls from President Obama to extend an Israeli settlement freeze in the West Bank, Israeli Prime Minister Benjamin Netanyahu hinted this weekend for the first time that he's open to new limits on building after the Sept. 26 expiration.
"On the one hand, we won't build all of the tens of thousands of housing units that are waiting in the planning pipeline,'' he told Tony Blair, the envoy of the international "Quartet'' of peace process sponsors. "But on the other hand we won't freeze the lives of the residents of Judea and Samaria and we won't freeze construction," he said, referring to the West Bank by its biblical names.
The comment, however, annoyed both Palestinians and settlers, highlighting how seemingly intractable the issue of settlement building has become.
IN PICTURES: Israeli settlements
Israel's dovish Peace Now released a report saying that there are at least 2,000 housing units ready to be built when the settlement freeze expires Sept. 26. Palestinians, who see such building as undermining peace talks, have threatened to pull out of talks if the freeze is not extended. But leaders of the settlers' council threatened on Monday to bring down Mr. Netanyahu's government if he extends any limits on building.
One solution: Agree on a mutual border ASAP
In order to defuse the settlement dispute, some in Israel and the US have suggested that the sides immediately agree on a mutual border that would allow Israel to annex some larger "blocs'' of settlements while swapping other territory in return.
---