Israeli-Palestinian peace talks under threat from Hamas. Can Syria help?
US envoy George Mitchell arrived in Damascus today after Israeli-Palestinian peace talks culminated in Jerusalem. He may ask President Bashar Assad to lean on Hamas amid fresh Gaza air strikes.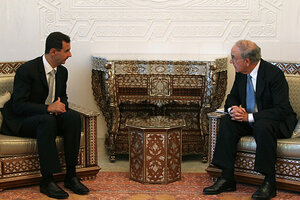 Khaled al-Hariri/Reuters
With Gaza rocket fire and Israeli air strikes providing a potent reminder of Hamas's potential to destabilize Israeli-Palestinian peace talks, US envoy George Mitchell arrived in Syria today looking to secure broader regional support.
While Syrian leaders have repeatedly expressed support for restarting peace talks with Israel, few expect an imminent breakthrough on that front. But where Syria could play a crucial role in the short term is in helping the US shore up the recently renewed Israeli-Palestinian talks.
Since the negotiations resumed Sept. 2 after a 20-month hiatus, there has been an uptick in rocket attacks from Gaza, which is controlled by the militant Palestinian movement Hamas. The organization, whose political leaders are based in Syria, has spearheaded opposition to the peace process and is a bitter rival of Palestinian Authority President Mahmoud Abbas.
The timing of Mitchell's trip to Syria, coming after a two-day summit between Mr. Abbas and Israeli Prime Minister Benjamin Netanyahu, has analysts surmising that he will ask Syria to discourage Hamas from upsetting the talks.
---