In West Bank, corruption-busting teenagers shake up local government
While Israeli-Palestinian talks aim for Palestinian statehood, a devoted band of educators is grooming the rising generation to be citizens of a vibrant democracy.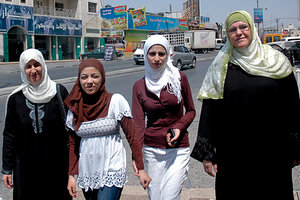 Christa Case Bryant/The Christian Science Monitor
Fatmeh Abu Afifeh doesn't look like someone who could intimidate tough bureaucrats. Demure and only 17, she had never even spent a night away from her family until now.
But armed only with fine pearl pins that keep her head scarf firmly in place, Fatmeh is here in Ramallah with dozens of other students who exposed significant corruption across the West Bank.
"All the people [we interviewed] would say, 'We are engineers and we are unable to grasp what's going on – how can young girls?' " recalls Fatmeh, who says that confronting local officials about lax oversight of a sports stadium building project made her a better citizen. "I no longer care only about my interests; I care about the interests of society."
The project sought to prepare 16 teams of Palestinian youths to become citizens of an eventual Palestinian state. Part of a movement known as "civic education," such initiatives build familiarity with democratic mechanisms, respect for the rule of law, and the confidence to hew to those ideals.
Such education is "a precondition to be liberated from the [Israeli] occupation and establish a viable Palestinian state," says human rights advocate Issam Aruri, who represents 132 Palestinian nongovernmental organizations (NGOs). "Independence is not just raising the flag or having the president walking on a red carpet. That's not a state. The state is ... to feel that our dignity is protected."
Creating a nation of leaders, not followers
---