How arms deals are shaping the Mideast
A record U.S. arms deal with Saudi Arabia is part of an effort to put pressure on Iran, partly by strengthening alliances with oil-rich neighbors also concerned by Iran's rise.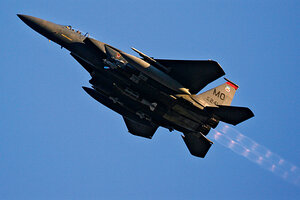 Reuters/file
Gulf states are stepping up weapons purchases from the United States in the face of an emerging Iran and other regional threats. The deals highlight the extent to which Washington now considers Gulf allies as key to containing Iran.
What are the major deals under way?
From 2005 to 2009, the US sold up to $37 billion in arms to Gulf states, including Saudi Arabia, the United Arab Emirates (UAE), Bahrain, Qatar, Oman, and Kuwait, according to the US Government Accountability Office.
The recent US-Saudi deal, which is expected to be submitted to Congress for approval soon, could be worth as much as $60 billion.
It would include 84 new Boeing F-15 fighter jets and upgrades to another 70 of them, as well as three types of helicopters: 72 Black Hawks, 70 Apaches, and 36 Little Birds.
In addition, US officials are discussing a $30 billion package to upgrade Saudi Arabia's naval forces.
---