Suspicious UPS, FedEx packages raise new concerns about Al Qaeda in Yemen
The discovery of suspicious packages originating in Yemen is yet another incident that increases concern about Yemen becoming a launching pad for Al Qaeda.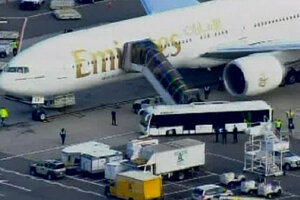 WABC-TV/AP
Suspicious packages found on United Parcel Service and FedEx planes reportedly originated in Yemen. While the planes appear to be undamaged, the incidents could bring fresh scrutiny to Al Qaeda in the Arabian Peninsula (AQAP), the relatively new franchise that claimed responsibility for the failed underwear bomber plot on Christmas Day last year.
A spokesman in Yemen's US embassy said in a statement that the Yemeni government, which has carried out numerous strikes against suspected AQAP operatives over the past 10 months, has launched a full-scale investigation.
"We are working closely with international partners – including the US – on the incident," said Mohammed Albasha, adding that no UPS cargo planes land or take off from Yemeni airports.
However, an airport employee in Sanaa, who did not want his name used, confirmed that there are private company flights from Sanaa to the United Kingdom, where a suspicious package was found at East Midlands airport at 3:28 a.m. local time.
---