How Israel's easing of Gaza blockade has hurt Gaza business
Israel's lifting of the Gaza blockade allows Israeli goods into Gaza, but has not allowed Gazan manufacturers to import raw materials or export goods.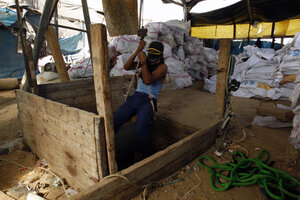 Ibraheem Abu Mustafa/Reuters
Israel's move to ease the three-year blockade on the Gaza Strip has put consumer products that were long absent back on Gazan shelves and is cited as one of the reasons the territory's economy grew rapidly this year.

But the June move, which has allowed Israeli goods to start flowing into Gaza, is actually hurting Gaza businesses. By allowing Israeli goods to flood the coastal enclave, while continuing to restrict Gazan manufacturers by keeping them from importing raw materials and exporting goods, the policy tilts the playing field.
"The Israelis have turned Gaza into a place of consumption only," says Ali El Haik, president of the Palestinian Businessmen Association. "They ban us from exporting and push their items on the market, killing our industry."
Before Israel imposed a blockade on Hamas-run Gaza three years ago, Gaza exported more than $300 million worth of products each year, from garments to furniture to agricultural products to ice cream. Now, the only exports are limited seasonal shipments of strawberries and flowers, through a deal negotiated by The Netherlands.
---