Syrian bloggers brace for fresh blow to Middle East press freedom
A Syrian law awaiting parliamentary approval is one of a raft of measures across the region to clamp down on a surge in Internet activity over the past decade.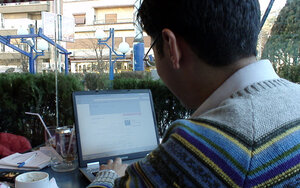 Kevin Sites/SHNS/Newscom
The Middle East's modest window for dissent, created by a surge in blogging and online journalism over the past decade, looks poised to narrow with a raft of measures across the region.
A draft Internet law awaiting parliamentary approval in Syria is one such measure. The government says it would give a needed legal framework to online activity by forcing bloggers to register as union members, conferring rights such as a press card to online journalists for the first time, and potentially requiring content be withdrawn from websites.
Online journalists and bloggers in Syria, already subject to harassment and imprisonment, are concerned that the law is designed to crack down on their activities and restrict freedom of expression. Media analysts say parliamentary approval is likely to come soon.
Since Syria's online sphere began to blossom in 2000, Syrian websites – which face less scrutiny than the country's print media – have been able to publish stories on sensitive subjects such as the army and corruption. They have recently brought to light a controversial personal status law and the issue of corporal punishment.
"We have democratized information and flagged up sensitive and important topics for debate, both controversial and non-controversial," says Abdel Ayman Nour, the editor of All4Syria, a news website run from outside the country which as well as writing about politics has actively campaigned about neglected topics such as the environment. "But a law that stipulates that police can enter the office of a website to take journalists for questioning, seize their computers, and impose penalties of jail or a fine of up to 1 million Syrian pounds [$200,000] is clearly designed to end that."
---