Palestinian officials fund schools, fill potholes in E. Jerusalem. Are they building a state?
Palestinian Authority Prime Minister Salam Fayyad is spearheading an effort to improve public services for Arab areas of East Jerusalem, long neglected by municipal officials.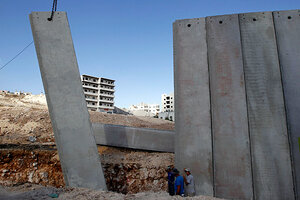 Ammar Awad/Reuters
Officially, Israel considers the Arab neighborhoods of Jerusalem as part of its "undivided and eternal" capital.
But in practice, there's been an erosion of Israeli sovereignty on Jerusalem's eastern outskirts in recent months as the Palestinian Authority (PA) steps up a quiet campaign to fill a vacuum of municipal services – building new schools, filling potholes, and maintaining public order.
Amid expectations that peace negotiators will soon revisit the high-stakes dispute over a city sacred to both Jews and Muslims, the activity highlights a reassertion of Palestinian claims to East Jerusalem as their capital after nearly a decade of quiescence. Spearheaded by Prime Minister Salam Fayyad, the Palestinian effort fits into a broader escalation of rival claims that has ratcheted up tension on the ground and among heads of state.
"It's almost a law of physics. As we get to the final-status issues, it's not at all surprising that you're going to see increased interest and engagement of the Palestinians in the affairs of East Jerusalem,'' says Danny Seidemann, a Jerusalem lawyer who has pushed for a compromise in the city. "The battle for Jerusalem has already started, and it's been going on under the radar for several months now.''
---