US 'how to' guide on talking to Iran – in 1979 – emerges from WikiLeaks
A WikiLeaks cable written three months before the takeover of the US Embassy in Tehran is at times insightful and at times sweeping in its condescension about the 'Persian psyche.'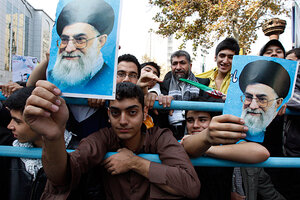 Vahid Salemi/AP
As top Western diplomats sit down at the negotiating table with their Iranian counterparts in Geneva, they will have no shortage of advice, some of it freshly culled from the trove of secret US State Department cables released by WikiLeaks.
Pointed, sometimes insightful, though also sweeping at times in condescending assumptions or schoolteacher-ish advice, the releases show a narrow snapshot of US diplomacy and America's perceptions of one of its most enigmatic foes.
Coping with the Islamic Republic since it came into being with the 1979 Islamic revolution has been a top priority of Washington – but also one of its most challenging battles. Less than three months before the US Embassy in Tehran was overrun by militant students, taking 52 Americans hostage for 444 days, diplomats posted there crafted a "how-to" guide to negotiating.
Some elements of the Iran analysis have in the past three decades been revised or changed in practice – if not in text, as so far, few other similar documents have been leaked. Yet the confidential cable notes the "special features" of negotiating with Iranians, and reads, "We believe the underlying cultural and psychological qualities that account for the nature of these difficulties are and will remain relatively constant."
---
Follow Stories Like This
Get the Monitor stories you care about delivered to your inbox.