Rabbis tell Israeli Jews not to rent to Arabs; even Holocaust museum frowns
The call from hundreds of rabbis on Jews not to rent or sell real estate to Arabs, a 20 percent minority, has sparked a heated debate over Israel's dual ideals of Judaism and democracy.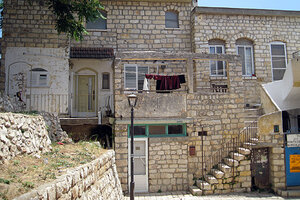 Linda D. Epstein/MCT/Newscom/File
Hundreds of prominent Israeli rabbis have signed a religious opinion calling on Jews not to rent or sell real estate to Arabs, sparking public uproar and debate over the essence of Judaism and its place in Israel's democracy.
The statement, supported by many state-employed municipal chief rabbis, insists there is a Torah ban on land transactions with "foreigners'' in the Land of Israel. Peppered with biblical citations, it includes a passage warning of a negative impact on property values from selling to non-Jews. "Their way of life is different from ours, and our oppressors are among them," the statement says.
The religious opinion reflects a confluence of several related trends: growing alienation between Jews and the country's one-fifth Arab minority, a shift of public sentiment toward ultra-nationalist political parties, and growing radicalization among the leaders of Israel's nationalist religious movement who challenge the secular foundations of the government.
"These things in the past wouldn't be acceptable in Israeli society,'' says Yair Ettinger, a reporter for the liberal Haaretz newspaper who covers the Orthodox religious community. "But now even though it's not politically correct, people allow themselves to say things in public that you wouldn't even dare to say in a private synagogue. It's a big change."
Holocaust memorial denounces the letter
Publication of the opinion sparked denunciations from leading Jewish institutions such as the Yad Vashem Holocaust memorial authority and top functionaries, while philosophers and jurists have taken to the airwaves to argue that the rabbis were perpetuating discrimination while ignoring many of more universal concepts in Jewish tradition.
---