In Israel, a rabbi who argues that anti-Arab measures are un-Jewish
Arik Ascherman, a Harvard grad who helped found Rabbis for Human Rights, is struggling to present an alternative voice amid rising anti-Arab and anti-foreigner sentiment in Israel.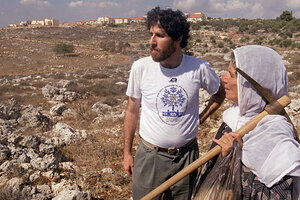 Nasser Ishtayeh/AP
At first glance, Arik Ascherman seems more like a soft-spoken university lecturer than a combative crusader for the rights of the "other," be they Palestinian or African refugee.
Yet the American-born rabbi is embroiled in two of Israel's main conflicts today: the struggle with Palestinians over the West Bank and, within Israel, a rising tide of anti-Arab and anti-foreigner sentiment. The latter is starkly illustrated by an unprecedented rabbinical edict calling on Jews not to rent or sell property to non-Jews.
Both conflicts are at the heart of a debate over whether Israel can be live up to its ideal of being democratic as well as Jewish.
Israel is at a particularly sensitive, even dangerous point in its history, argues Rabbi Ascherman, a liberal voice struggling to be heard among Israel's more prevalent Orthodox strain. In the face of "huge warning signs," such as the recent rabbinical edict, he sees an urgent need to temper xenophobic fears with education about human rights.
"Things always go in waves, but they have reached a height I don't ever recall seeing before," says the Harvard grad, who helped found Rabbis for Human Rights (RHR) in Israel more than 20 years ago.
"Your average Israeli does not want bad things for non-Jews," he says, "but they think: (a) our self-defense comes first, and (b) we are a small country and must take care of ourselves first. The demagogues play on these fears – the danger of an Arab living next to you or the danger of allowing refugees in our society, diluting Jewish culture, [the danger] that our children will intermarry. All of these play on fears so that even decent people who are not racist are overcome by these fears."
Rabbi rulings against Arabs, Africans
---