Israel's Lieberman tweaks Turkey. Is he flanking Netanyahu?
Israeli Foreign Minister Avigdor Lieberman criticized Turkey in an apparent attempt to outflank Prime Minister Netanyahu on the right and pick up support from hardline nationalists disillusioned with the peace process.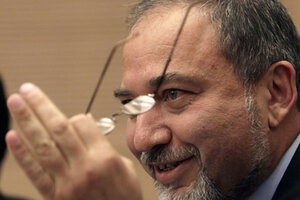 Darren Whiteside/Reuters
A recent attempt to mend Israel-Turkey ties appears to be on the rocks, with Foreign Minister Avigdor Lieberman lobbying against apologizing to Ankara for the killing of nine Turkish citizens on the Gaza aid flotilla when they challenged Israel's naval blockade of the territory in May.
Lieberman on Sunday said Ankara's call for an apology was an example of "chutzpah'' and railed against Turkish leaders for spreading "lies'' about the Jewish state. On Monday he denounced the Turkish government for not condemning anti-Israel sentiment at a demonstration in Istanbul welcoming back the Mavi Marmara cruise ship on which the nine were killed.
The comment highlighted an open foreign policy clash between Lieberman and Prime Minister Benjamin Netanyahu, who sought to repair relations after Turkey came to Israel's aid earlier this month in dousing the largest forest fire in its history.
Shortly afterward, the two sides began discussing an Israeli expression of contrition in exchange for the return to Israel of the Turkish ambassador. Mr. Netanyahu distanced himself from Lieberman, but that didn't improve the outlook for the bilateral talks.
---